Al Nasser Annual Shoe Stock Clearance Sale Exhibition @ Mughlae Azam Lahore

7° - by noori on 03/07/2018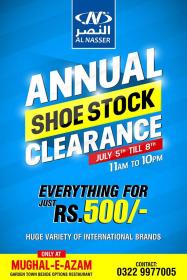 Al Nasser Pakistan ANNUAL SHOE STOCK CLEARANCE EXHIBITION AT MUGHLAE AZAM (Shadi Hall) - Garden Town Beside Options Restaurant, Lahore.
Every thing for just Rs 500!!!!
*Offer is at exhibition Hall Only & Not in branches!
Shipping & Delivery: Free Shipping all over the Pakistan above Rs 1500!
Locations: Click here to locate Al Nasser.
Cities: Lahore
Start Date: Thursday, July 5, 2018
Expiry Date: Sunday, July 8, 2018
Follow @WhatsOnSalePK
Add new comment