ChenOne Blessed Friday Sale! Flat 25% OFF discount on Home Textile & Apparel

47° - by faree on 17/11/2023
Go to Sale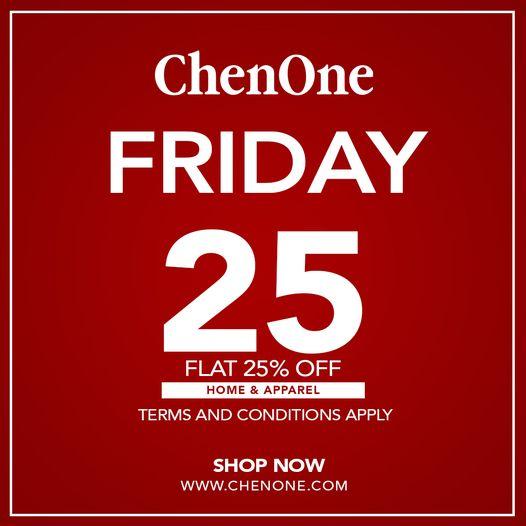 Dive into Flat 25% OFF discount on Home Textile & Apparel from our ChenOne FRIDAY offer. ChenOne is making your Friday even more special with their Blessed Friday Sale! Enjoy a flat 25% OFF discount on both Home Textile and Apparel as part of the ChenOne Friday offer. Dive into the savings whether you prefer shopping at your nearest ChenOne store or online. This limited-time sale is your chance to revamp your home and wardrobe with stylish and discounted items, so don't miss out on the deals available during ChenOne's Blessed Friday Sale!
Take advantage of this offer to add a touch of elegance to your home with discounted home textiles or enhance your wardrobe with fashionable apparel. Whether you enjoy the in-store experience or the convenience of online shopping, ChenOne's Blessed Friday Sale brings you exciting discounts for a limited time. Explore the stylish selections and make the most of this opportunity to save on quality Home Textile and Apparel at ChenOne!
So, Visit to your nearest ChenOne store or SHOP online. Limited time sale.
Shipping & Delivery: Free Nationwide Shipping on all orders above PKR 999 Except Furniture.
Locations: Click here to locate ChenOne.
Start Date: Friday, November 17, 2023
Add new comment