Daraz 11.11 Sale 2023! up to 75% off Mega deals and Rs 11,000/- Mega Voucher

62° - by zuni on 26/10/2023
Go to Sale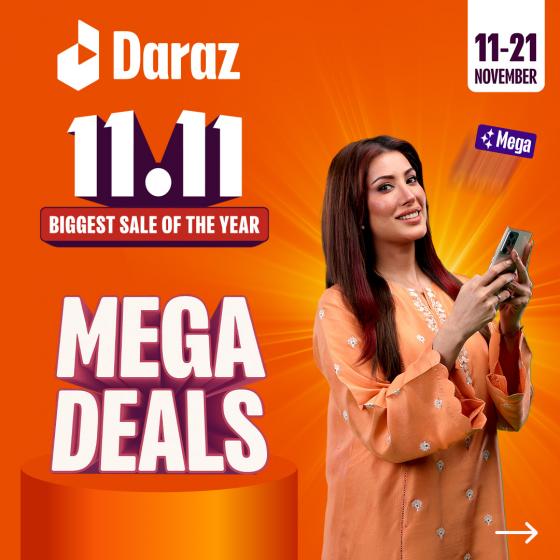 Daraz 11.11 Sale 2023 - On this year enjoy 100 Millions discuonst on daraz. Also get change to get Rs 11,000 mega voucher. Daraz is gearing up for an exciting 11.11 Sale in 2023, offering a staggering 100 million discounts for shoppers to revel in. As part of this mega sale, participants also stand a chance to snag a Rs 11,000 mega voucher, adding an extra layer of excitement to the shopping bonanza. With discounts soaring up to 75% across all categories, Daraz is set to transform the shopping experience with unbeatable deals.
To enhance the savings, customers can leverage additional discounts through vouchers and enjoy exclusive offers when using bank debit or credit card payments. The incorporation of various payment options ensures that shoppers have flexibility in maximizing their savings during the Daraz 11.11 Sale.
Adding an element of thrill to the shopping spree, participants have the opportunity to win exciting prizes, including a chance to take home a 1300cc car. The engaging 1 rupee game presents an avenue for shoppers to not only enjoy incredible discounts but also try their luck in securing some fantastic prizes during this much-anticipated Daraz sale event. Be prepared for an exhilarating shopping experience where savings and prizes converge in the Daraz 11.11 Sale of 2023.
Get upto 75% off on all categories. You can get extra discount with vouchers and bank debit/credit card payments.
Also get chance to win exciting prize including 1300cc car by playing 1 rupees game.
Shipping & Delivery: Across Pakistan delivery with Hassle FREE 7-day return.
Start Date: Saturday, November 11, 2023
Expiry Date: Tuesday, November 21, 2023
Sale Status: Expired! Visit Daraz page for latest Sales.
Add new comment