Gul Ahmed Ideas Big Eid BIG Sale Upto 40% OFF on Eid Collection

53° - by noori on 19th Aug 2017
Go to Deal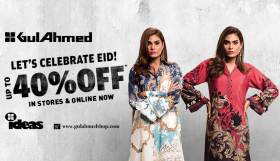 Gul Ahmed Ideas Eid Sale - The Big Eid comes with some BIG Discounts! Up 40% Off on all your Favorite Men, Women and Home Products!
This is limited time sale.
Shipping & Delivery: Free Shipping on Orders of PKR 5,000 and above in Pakistan.
Locations: Click here to locate Gul Ahmed Ideas.
Start Date: Friday, August 18, 2017
Add new comment