Minnie Minors Funstastic Friday Sale! Up To 40% OFF, Limited Time Offer

86° - by faree on 15/11/2023
Go to Sale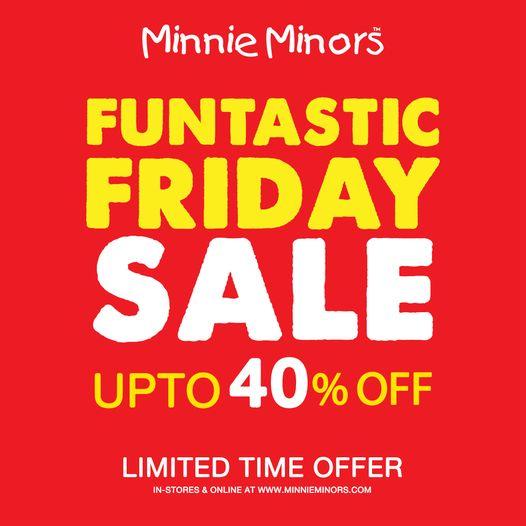 Minnie Minors Funstastic Friday Sale! Get Up To 40% OFF on all your favourites items for limited time. Minnie Minors warmly invites you to partake in the excitement of the Funstastic Friday Sale, where a bountiful 40% discount awaits on a diverse array of items. This enticing offer extends to both in-store and online purchases, providing a wonderful opportunity for parents to elevate their little ones' style at a fraction of the cost. The clock is ticking on this limited-time promotion, so seize the moment and secure your preferred items before they disappear from the shelves.
Whether you're in search of trendy clothing or charming accessories for your children, Minnie Minors has thoughtfully curated a selection that caters to the unique preferences of parents and the comfort and style needs of children. The in-store experience offers a delightful opportunity to browse and choose amidst a vibrant atmosphere, while the online collection provides the convenience of exploring the Funstastic Friday Sale from the comfort of your home. This sale is more than just an opportunity for savings; it's a chance to add a touch of joy and flair to your child's wardrobe.
Don't miss out on the chance to infuse your child's wardrobe with style and playfulness. The Funstastic Friday Sale at Minnie Minors is a celebration of both savings and style, and with the clock ticking, now is the ideal time to immerse yourself in the world of Minnie Minors and make the most of this exclusive offer!
Sale is live instores and online for limited time.
Shipping & Delivery: Free Shipping Nationwide Order Over Rs.1500/-.
Locations: Click here to locate Minnie Minors.
Start Date: Wednesday, November 15, 2023
Add new comment