Sapphire MID SUMMER SALE Flat 50% off from 21st till 23rd July 2017

8° - by zainab on 20/07/2017
Go to Sale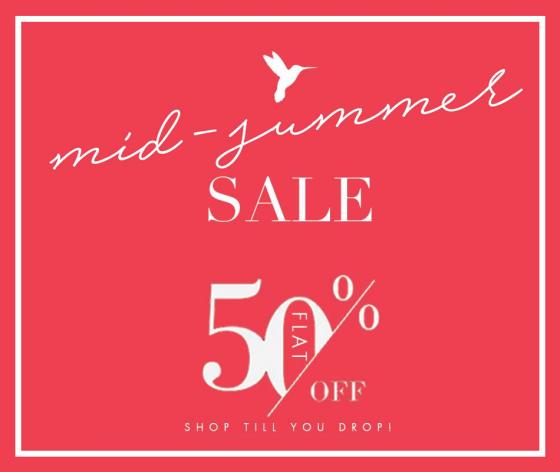 Sapphire is a fashion brand offering 3 day mid summer sale from 21st till 23rd July 2017. Enjoy flat 50% off on all items (two pieces, three piece, and single shirts) online and in-stores.
Buy versatile and amazing couture designs at half price. Jewellery items are also on sale.
Sapphire is Pakistani top fashion brand and offers daily wear, party wear, formal wear, silk tunics and scarves, even unstitched fabric. Sapphire deals in 100% pure material and has unique designs that every woman wants. Please not this is only 3 day limited time sale end on 23rd July 2017. Visit to your nearest outlet of Sapphire or visit online to shop your favorite at half price.
Store timings for Friday:
Faisalabad store: 10:00 am
Centaurus outlet Islamabad: 9:30 am
WTC outlet Rawalpindi: 10:00 am
Bahawalpur store: 10:00 am
Boulevard Mall outlet Hyderabad: 3:00 pm
Lahore:
Emporium store: 10:00 am
Packages Mall outlet: 10:00 am
DHA store: 10:00 am
Gulberg store: 10:00 am
Xinhua store: 3:00pm
Allama Iqbal store: 10:00 am
Karachi:
Kehkashan store: 9:00 am
Dolmen Mall Clifton: 10:00 am
Dolmen Mall tariq road: 3:00 pm
Luckyone Mall: 10:00 am
Shipping & Delivery: Free Shipping on all orders worth Rs. 2000 & above.
Locations: Click here to locate Sapphire.
Catalogue: See Sapphire latest catalogue here.
Start Date: Friday, July 21, 2017
Expiry Date: Sunday, July 23, 2017
Sale Status: Expired! Visit Sapphire page for latest Sales.