Stylo Shoes Winter Sale upto 51% OFF (Instores & Online)
86° - by kalibili on 30th Dec 2016
Go to Deal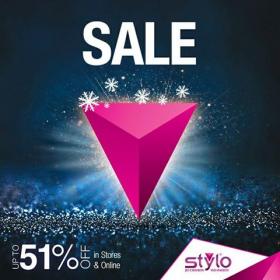 Sale upto 51% Off! Visit to your nearest Stylo stores or shop online!
Stylo Shoes is offering the discount upto 51% OFF on entire stock in Stores & Online. Stylo shoes have the largest shoe range for Women, Girls, Bridals, Kids and complete Accessories collection.
Sale end date is unknown.
Stylo offers free shipping above Rs. 3000 all over Pakistan. Deliveries usually take 5-7 business days.
Click here to locate nearest Stylo store.
Start Date: Friday, December 30, 2016