Stylo Summer Sale 2015 - Save upto 51% on Shoes, Bags, Accessories & Fabrizio Clothing

8° - by zainab on 9th May 2015
Go to Deal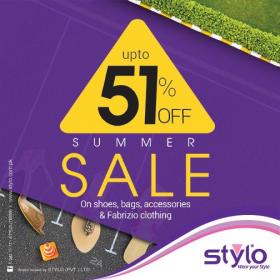 Stylo brings Summer Sale, get up to 51% Discount on Shoes, Bags, Accessories & Fabrizio Clothing.
This is limited time sale while stock last.
This sale is on their all outlets.
Stylo offers free shipping above Rs. 3000 all over Pakistan. Deliveries usually take 5-7 business days.
Click here to locate nearest Stylo store.
Start Date: Saturday, May 9, 2015
(1) Shoes Hand Bags Fabrizio Clothing Fashion