Stylo Summer Sale 2016 Started! Shoe It OFF Upto 51%
12° - by aati on 13th May 2016
Go to Deal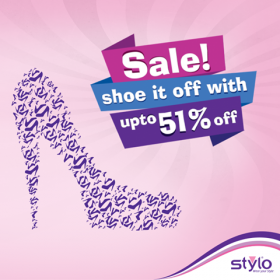 Stylo is also started their summer sale. Enjoy upto 51% discount on selected shoes and accessories items.
Sale end date is unknown. Visit to your nearest Stylo outlet because you don't want to miss this!!
Stylo offers free shipping above Rs. 3000 all over Pakistan. Deliveries usually take 5-7 business days.
Click here to locate nearest Stylo store.
Start Date: Thursday, May 5, 2016