WIN Surprised Gift! Simply find as many words as you can @ Khaadi Home

9° - by zainab on 15th Apr 2016
Go to Competition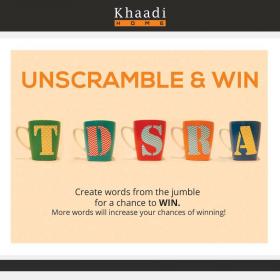 They have got some beautiful new items at Khaadi Home and They are giving you the chance to WIN one!
Simple post your answer on their facebook competition page.
Shipping & Delivery: Free Shipping on orders over Rs. 2,500
Locations: Click here to locate Khaadi.
Prize: Surprised Gift
Question: Simply, unscramble to find as many words as you can for a chance to WIN! Get those comments rolling in!
Start Date: Tuesday, April 12, 2016
Expiry Date: Sunday, April 17, 2016
Khaadi